E-Invitations, Group Gifts, Charitable Giving.
How it works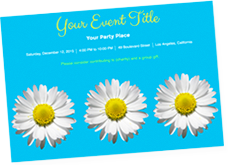 Step 1
Select custom invitations, rsvps, & thank you notes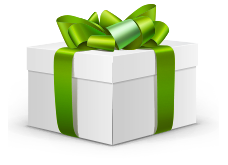 Step 2
Your guests contribute to both Group Gifts and Make-A-Wish Canada
Step 3
After the party, we send you the money & the rest to Make-A-Wish Canada

HOW YOUR CONTRIBUTION HELPS:
Make-A-Wish® Canada exists for only one reason – to grant the wishes of children whose lives have been compromised by a critical childhood illness. Your support will help to inspire joy for today, hope for tomorrow, and the courage and strength needed to continue on.
Testimonials:

Wish Child, Sarina: "Thank you so much to each and every one of you for being part of my insane, crazy, cool journey. I am still blown away by everything and I am proud to say it all happened with your help. I am glad you were with me every step of the way."
Wish Mom, Sue: "This wish allowed us to have something to look forward to for the last year. From the beginning, all she wanted to do was show people that, even with obstacles in the way, anything is possible"
Wish Dad, Rod: "A wish is for the days when you are going through the worst, trying to explain that the doctors and nurses are just trying to help. Make-A-Wish allows your child to feel special again."
Wish Mom & Dad: "The impact of the experience on the family is monumental. Being able to spend time together in a normal way, outside of the hospital treatments, has helped us bond again and heal."
Get your party started