select invitation from 100s of original designs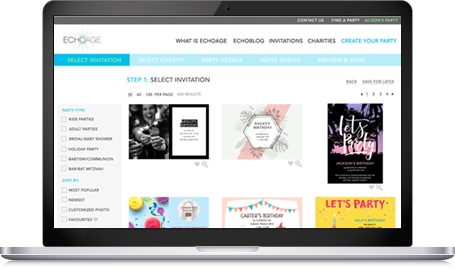 hundreds of original designs at your fingertips

BIRTHDAYS, SHOWERS, BAR MITZVAHS, VIRTUAL PARTIES & MORE

PAPERLESS & ECO-FRIENDLY

just pick the DESIGN you love & add your party details

Then faster than you can say, "I'll just deal with it tomorrOw" you're done!
Select your charity & group gift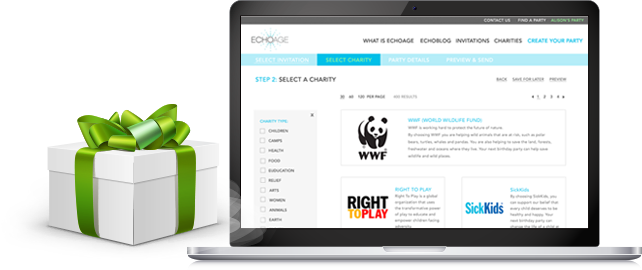 NO MORE HIT-OR-MISS PRESENTS

Guests love the convenience of super-easy, stress free online gifting. No shopping required!

Funds are split between the selected charity and your group gift(s)

Bigger, better gifts your child really, really wants: new bike, a drum set, trapeze lessons

EXPERIENCE THE JOY OF HELPING OTHERS!
PARTY DETAILS & INVITE GUESTS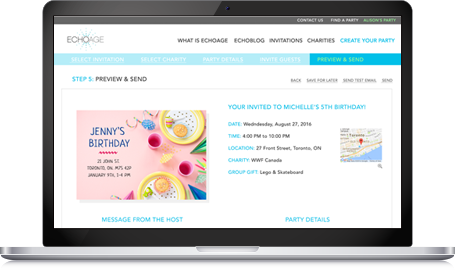 Easily invite guests and manage RSVPs and contributions

MESSAGE GUESTS DIRECTLY OR CHAT ON THE PARTY MESSAGEBOARD

NO MORE MISPLACED INVITATIONS OR MISSED DETAILS

TAKES THE STRESS OUT OF PARTY PLANNING. MORE PARTY LESS PLANNING!
SECURE PAYMENT & MORE TOOLS AFTER THE PARTY!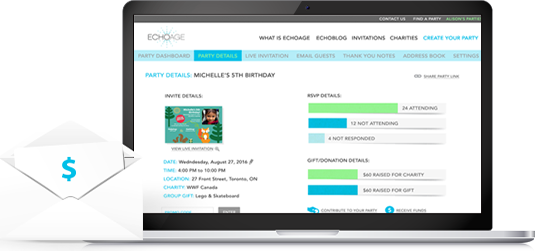 After the party, ECHOage will send half of the funds directly to your chosen charity and the other half, directly to you

funds are sent securely THROUGH check/cheque or e-payment– YOUR CHOICE!

guests receive a tax receipt for THEIR charitable CONTRIBUTION

EASILY send thank you notes

Cue the parent-of-the-year anthem

everybody benefits with echoage!