E-Invitations, Group Gifts, Charitable Giving.
How it works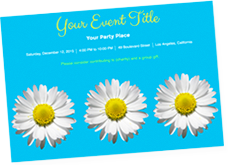 Step 1
Select custom invitations, rsvps, & thank you notes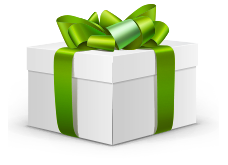 Step 2
Your guests contribute to both Group Gifts and Capital Area Food Bank
Step 3
After the party, we send you the money & the rest to Capital Area Food Bank

HOW YOUR CONTRIBUTION HELPS:
There are more than 200,000 children and teens struggling with hunger in the Washington metro area. To look at them, one might not realize that of these kids, many rely on food through school breakfast and lunch programs. Because of this, they quite often find themselves without over the weekend and on holidays when school is not in session. A gift from you allows Capital Area Food Bank to feed these children through our programs like:
Kids Cafe, which is an afterschool enrichment program that provides healthy afterschool and summer meals to children, and
Weekend Bag, a program that provides take-home bags of nutritious food for nearly 1,700 children weekly. So, even the smallest of gifts can make an incredibly huge impact!
Testimonials:
I will never forget how fortunate my two children and I were after we moved out of a difficult situation in 1998. However, only two years later our future was suddenly bleak. Unemployed and without child support, I began volunteering at the Queenstown Community Center, which had helped keep my son fed and occupied after school. I survived for 18 months with no income, often going hungry for days so that I could give my children food.
The summer of 2002 opened new possibilities, I became a paid part-time intern for Queenstown. I was independent, able to feed my children and share my passion of educating, molding and nurturing young lives.
The Capital Area Food Bank (CAFB) was an integral part of the Center's program, supplying a weekend food bag to my children with nourishing food items, school supplies, winter hats and gloves, toiletries, and Christmas gifts under the Angel Tree program. These were such a help when the budget was tight. I will never forget the look on my son's face when he opened his art case at 13, he was overwhelmed. That small gesture helped shape him into a Dean's List graduate of the University of Maryland with a BSC in Aerospace Engineering, and build his first plane. My daughter's experience at a CAFB summer camp as a participant, and later a Camp Counselor, kept her from hunger during her formative years. She graduated in 2011 as Class Valedictorian with a 4.39 GPA, and was awarded a 4 year scholarship to the University of Maryland - succeeding in spite of adverse circumstances.
It is by the dedication and financial contributions made to CAFB that lives can be changed and young people can flourish and succeed...making the world a better place.
Ann Charlotte
Heroes
Get your party started